Public Computers & Public Internet Access
Public Computers
Any member of the public can use our public computers to check email, browse the internet, use Microsoft Office software, and more. If you need assistance using the computer, the reference librarian would be happy to help you.
Use your library card number to log into the computer. If you don't have an OCLN library card, you can sign up for a library card or ask the reference librarian for a computer guest pass.
Headphones and external DVD drives are available from the reference desk upon request.
Please note that the public computers shut down 15 minutes before the library closes. If you expect to require assistance to use the computer, we recommend that you arrive no later than 1 hour before closing.
Visitors using the public computers to access the internet must follow our Internet Acceptable Use Policy.
Public Internet Access
Have your own computer, tablet, or smartphone? You can connect to our public wifi networks inside the library! If you need internet access while we're closed, you can also connect to the wifi outside in the playground parking lot. Connect to the network called public-wireless on your device and use marshfield as the password.
If you need internet access at home, you can check out a wireless hotspot with your library card. Call us at 781-834-5535, email macirc@ocln.org, or ask at the circulation desk for more information.
---
Printing/Scanning/Faxing
Printing and Copying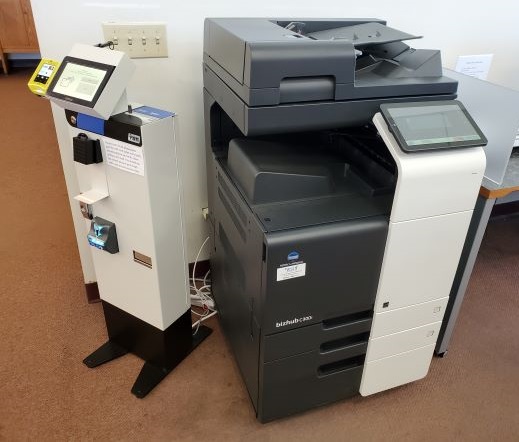 We have a self-serve public printer and copier in the public computer area. You may print from our public computers, or from your own device via mobile printing. Files may be printed up to 24 hours after being sent to the server. If you need any assistance printing or copying, the reference librarian will be happy to help you.
Black and White: $0.20 per page
Color: $0.50 per page
We accept payment by cash, card, or phone payment apps. Please note that paying by card or phone for photocopies will place a $10 hold on your account for 1 - 2 days.
Scanning
We have one (full color) scanner for public use in our public computer section. If you need assistance in using it, please ask a reference librarian.
Faxing
We offer faxing services at $1/page (cash only). We do not charge for a cover sheet. Please ask at the Circulation Desk if you would like to fax anything. Please note that we cannot fax documents longer than 5 pages. If you need to fax a longer document, please visit the Marshfield Business Center.
---
Newspapers, Magazines, and In-House Collections
Newspapers & Magazines
Enjoy a newspaper or current magazine at the library in our reading area! We generally get newspapers the day that they come out--newspapers are for library use only, as are the most current month's magazines.
Reference
Need to use a dictionary, encyclopedia, or other reference text? Check out our reference section or ask a librarian for help! These are also for reference use.
Jigsaw Junction
Jigsaw Junction is on hiatus during the pandemic. However, we are still circulating our large, ever-poplar puzzle collection. Check one out today!
---
Notary Services
The Ventress Memorial Library has a notary public on staff who is available to notarize documents by appointment, or as staffing allows.
To schedule an appointment, or to verify that your document meets the Massachusetts Notary Law requirements, please contact the library by phone during our normal business hours. We cannot guarantee that notary services will be available if you do not call ahead.
Be sure to bring a photo ID (license, state-issued ID, or passport). Documents to be notarized may be filled out, but must be unsigned.
Because we are not experts in law or finance, we are unable to notarize some documents including: copy certifications, powers of attorney, wills, trusts, real estate closings, and various types of financial documents. Please call in advance to verify that your document can be notarized at the library if you have any doubts.
This service is provided free of charge.
Additionally, banks, office supply stores, and shipping and mailing services sometimes offer notary services, but may charge a fee.
---
Quiet Study Area
Enjoy our quiet study area, located in the far back corner of the library by our Historical Room. Enjoy close to absolute silence while you do your work in one of our study carrels!
Note: this is the only quiet study area in the library. While we do ask patrons to be mindful of others, we do allow (and welcome!) talking in most other areas of the library.
---